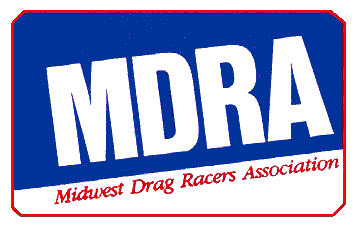 Midwest Drag Racers Association


Daily Picture

Dave Hagberg
Points
News
Calendar

We are in need of 4 cars to put in the GSTA car show April 5th and 6th.


A Junior or big car is good. Please contact anyone on the board.

2014 Racing Schedule!






June 14 Grove Creek

(June 15 rain date)

July 19 Brainerd

(July 20 rain date*)

August 10

Rock Falls-Grove Creek-Flex Weekend




*The July 20 rain date at BIR will be used to make up any of the 3 MDRA races at BIR if any are rained out.

June 14

Grove Creek

(June 15 rain date)

July 19

Brainerd

(July 20 rain date*)

August 9

Rock Falls-Grove Creek – Flex Weekend




Best 5 out of First 8 races in NHRA or IHRA Competition.

Bracket races or Gambler races do not count.

Points will be the same as last year.

Points have to be reported within two weeks after event.

NO EXCEPTIONS

Contact Scott Dugdale to report points or questions

612-860-7747 or ssdugdale@aol.com

2014 Spring Meeting





The spring meeting is March 22, 2014 at the American Motorsports Bar and Grill located in Grove Plaza Highway 61 and 80th Street in Cottage Grove. Meeting starts at 6 with finger food, info on 2014 season and the who's who of drag racing community in attendance.

Congratulations to our 2013 Winners and Runner-ups!


Bracket I Winner - Brandon Schmall
Bracket I Runner-up - Myron Streit

Bracket II Winner - Joe Marx
Bracket II Runner-up - Mel Knott

Jr Dragster Winner - Jordan Pratt
Jr Dragster Runner-up - Ashley Doffing

Sportsman Winner - Ben Line
Sportsman Runner-up - Bill Feist

Trophy Winner - Darren Arnold
Trophy Runner-up - John Culliton

SPC. DAN DREVNICK DEDICATED RACER AWARD



PRESENTED BY MDRA AND KEN DREVNICK

This award has been created to honor and remember our fellow drag racer, friend, and son, Dan who gave his life for our nation on July 17, 2009.
The criteria for receiving this award:
Nominated by another MDRA driver.
Must be a current MDRA competition member.
Should attend some MDRA races in the season.
Someone who conveys spirit for the sport, is helpful, and displays compassion for others.

The nomination should include a short explanation of
why this member would be deserving of this award.

Our 2013 recipient is Mel Knott!


If you have ideas or comments for the web site, please call the Hot Line - 612-547-6372

Hot Line - 612-547-6372